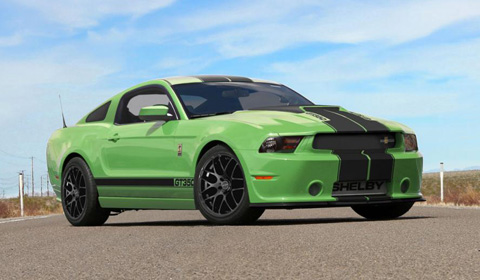 The 2013 Shelby GT350 is one of three cars that will make their public debut at the Pebble Beach Councours d'Elegance next week. The other two cars are the GT500 Super Snake, and mystery vehicle which will pay tribute to Carroll Shelby.
The high performance variant of the Ford Mustang – the GT350 – which is available as coupe or convertible comes with a few new features and options. The 2013 Shelby GT350 received a few minor cosmetic changes including a new rear similar to the Shelby GT500 Mustang. A limited run of 350 of these cars will be produced.
The Super Snake is an additional upgrade package for the newly introduced 2013 GT500. The kit offers a higher performance of up to 750, bigger brakes, an upgraded suspension and an all new appearance package.
Edsel Ford and Henry Ford III will be at Monterey for the unveiling of a special Carroll Shelby tribute vehicle. It is unknown which is mystery holds, so please stay tuned for more in the upcoming days.