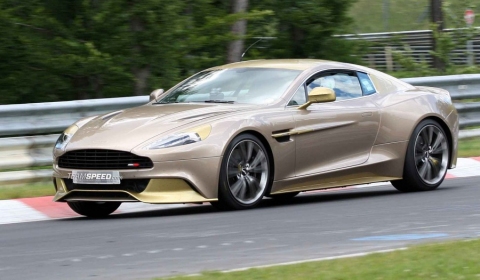 Both models have officially been released to the public, both are the latest members to the Aston Martin line up, and both were also spotted while testing at the Nurburgring Nordschleife. The duo we are talking about? The Aston Martin Vanquish and V12 Vantage Roadster.
Aston's new two-door coupe, the Vanquish, is available in a 2+0 or optional 2+2 seating configuration. The AM 310 Vanquish is powered by an all-alloy front-mid mounted 5,935cc V12 engine, which produces 573hp at 6,750rpm and a maximum torque of 620Nm at 5,500rpm. The zero to 100km/h sprint is done in 4.1 seconds and the top speed is 295km/h, which is slightly slower than the DBS.
The V12-powered Vantage roadster comes with a few upgrades compared to its siblings, the V12 Vantage Coupe and the V8 Vantage Roadster. In order to enhance the aerodynamic properties ‒ making it comparable to the V12 coupe ‒ the rear deck lid has been revised and features a redesigned spoiler. The suspension has been modified as well to ensure the handling will be on par with the coupe.
The open version of the most potent model of the Vantage model range is powered by a 6.0 liter V12 engine coupled with a six-speed manual which transfers the power to the rear wheels. With 517 horsepower and 570nm of torque the Vantage Roadster is able to sprint from standstill to 100km/h in 4.2 seconds and to hit a top speed is 305km/h.