British exhaust specialist Quicksilver has released their exhaust system for the Lamborghini Aventador LP700-4 in both stainless steel and titanium.
QuickSilver's Aventador exhaust turns the volume back up and provides a greater range (deeper low down and higher at the top end) increased by some 6-10db throughout the range. The system incorporates pneumatic exhaust flaps and provision for the reinstatement of the original pressure sensors.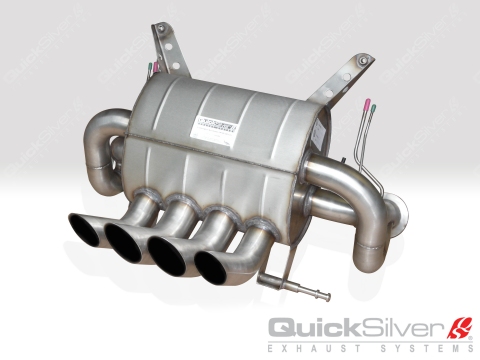 The original Aventador system weighs in at a colossal 32kg, double the weight of the 16kg stainless steel QuickSilver replacement. The Titanium system is an unbelievable 8kg, just 25 percent of the original. That's a loss of 35 and 52 pounds respectively over the rear axle.
All QuickSilver exhaust systems come complete with a 25-year corrosion guarantee and can be ordered and delivered within three working days (in the UK). The stainless steel system costs £5,880 + VAT and the titanium version is £18,840 + VAT.