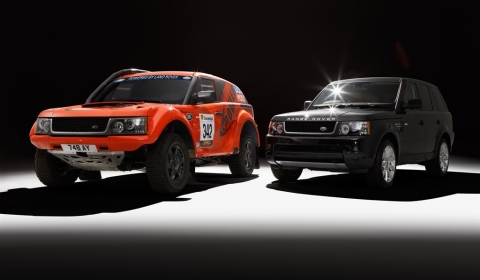 Land Rover and Bowler, UK-based manufacturer of rally cars, have agreed to start a new brand partnership. The new partnership includes an agreement named Powered by Land Rover.
Bowler will benefit from access to components – powertrain and chassis engineering in particular – and technical and development support from Land Rover. In addition, the agreement provides a secured piece of ongoing parts business and allows Land Rover's engineers to stretch themselves creatively and technically on an extreme performance-orientated programme that brings further knowledge to the core road-going Land Rover range, according to the UK brand known for their Vogue, Sport, Defender, Freelander and Evoque model lineup.
From its first competition vehicle of the mid-1980s, Bowler has based its racers on Land Rover technology. The company´s latest models – the EXR rally raid competition car and the road-going EXR S – both use modified engines, chassis and other components from the Range Rover Sport.
The Bowler EXR rally-raid competition car – on sale from £145,000 plus local taxes – conforms to FIA T1 specifications. It uses a modified version of the naturally-aspirated 5.0 liter V8 Range Rover Sport petrol engine, which is restricted to 300bhp and 582Nm in line with FIA restrictions. The EXR is fitted with a six-speed manual gearbox and Ricardo front, center and rear differentials.
The new Bowler EXR S is the first Bowler engineered for road use. It shares the EXR´s hydroformed base chassis (with the engine moved 300mm rearward) and various switchgear, light clusters and grilles, all from the Range Rover Sport. The EXR S also shares the same strong and lightweight composite body panels with its competition-bred stablemate.
The Bowler EXR S is fitted with a modified version of the Range Rover Sport´s supercharged 5.0 liter V8 producing 550bhp and 705Nm. The total package weighs 1,800kg. The SUV accelerates to 60mph in just 4.2 seconds and the top speed is limited to 155mph. The EXR S boasts a six-speed ZF automatic transmission and E-diff from the Range Rover Sport Supercharged.
The Bowler EXR S Powered by Land Rover is priced from £155,000 plus local taxes and will make its international debut at the Goodwood Festival of Speed 2012 next week, where it will be on display at the Bowler Off-Road Activities Field.