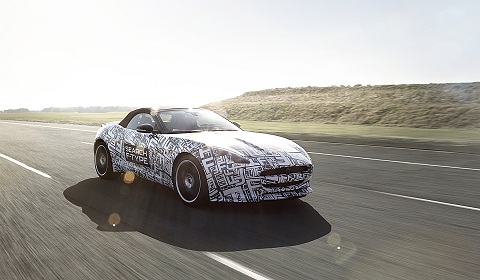 A development prototype example of Jaguar's new sports car, the F-Type, is set to make its public debut at the Goodwood Festival of Speed 2012 next week. The F-Type will launch as a two-seater convertible. The roadster will be driven up the Goodwood Hill by Jaguar's Head of Vehicle Integrity, Mike Cross.
Powered by a supercharged V6 or V8 engine, the F-TYPE is currently undergoing development prior to going on sale mid-2013. Adrian Hallmark, Global Brand Director, Jaguar Cars commented:
Goodwood Festival of Speed is focused around the dynamic hill runs where the public can see, hear and smell the cars – this is why we have chosen it as the place to showcase an F-Type prototype. The development programme is progressing with vigour and we look forward to showing the world the F-TYPE in production form later this year.
The new F-Type was introduced at the New York Motor Show a few weeks ago. The sports car will be production ready in mid-2013 and is based on the C-X16 Concept released at the IAA Motor Show in September of 2011.