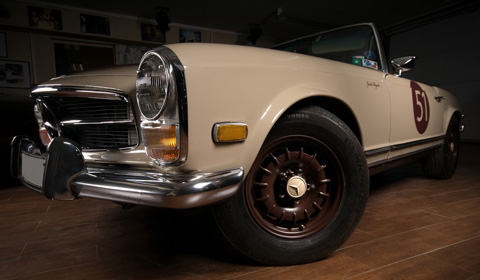 The Mercedes-Benz W113 ‒ better known as the Mercedes Pagoda ‒ was produced from 1963 through 1971 and has aged very well. Therefore Vilner Studio has given the classic Mercedes SL some light exterior interventions and a complete renewing of the interior.
The interior of the two-seat roadster is fitted with high-quality leather in vintage colors. The dashboard is upholstered, the chromed elements and mahogany steering wheel are renewed and the inside features embroidered Gentle Pagoda labels. The distinctive "pagoda" hardtop roof also received a treatment on par with the rest of the café and latte colored interior. Even the trunk has received a luxurious makeover.
The exterior of the Mercedes Pagoda has been slightly altered as well. Besides adding the vintage striping onto the body, the Bulgarian tuner installed a new exhaust. But the rest of the Mercedes is still original, Vilner only added more style and luxury ‒ making this Mercedes once designed as "a sports car with high performance which provides a very high degree of traveling comfort" even more comfortable, even according to today's standards.