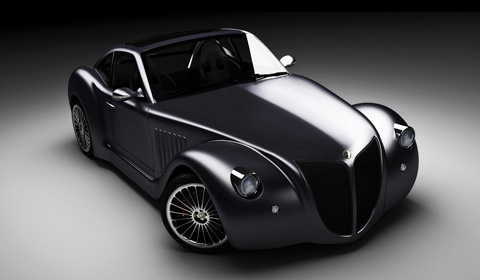 Imperia Automobiles, a new and ambitious carmaker from Belgium, is working on a retro-looking hybrid GT designed to show that "a socially- and environmentally-responsible approach does not rule out the finer pleasures in life."
The Imperia GT will be powered by a so-called PowerHybrid propulsion system consisting of a 1.6 liter four cylinder engine, which provides 211 horsepower and a maximum torque of 260Nm. An electric motor provides an additional 100kW (136hp) and 300Nm of power. In all-electric mode, the Imperia GT should have a range of 70km. In hybrid mode, the car has an average fuel consumption of 1.9 liter per 100km and an emission level of less that 50 grams per kilometer.
According to the carmaker, the Imperia GT will also be the only hybrid car that can be recharged from the mains, via a power socket. The price of refuelling is also quite interesting. Imperia's website states that "full charge is obtained in 4h30, for an unbeatable cost per kilometre ratio (€ 0.034/km on day tariff, € 0.016/100 km on night tariff)."
As for its performance, the GT accelerates from standstill to 100km/h in 6.0 seconds in purely electric mode, and in 4.0 seconds in hybrid mode. At this stage there is not information regarding its top speed.
The development mule of the Imperia GP has been tested already. The car is scheduled to enter the market later this year for an estimated price tag of €90,000.
[Via Autoblog.nl]