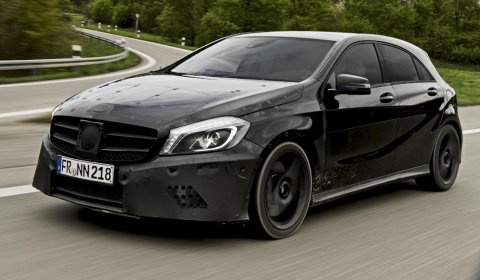 Information suggesting the release of a Mercedes-Benz A45 AMG in early 2013 have been confirmed over the past few days. A group of automotive journalists is currently in Affalterbach, Germany for some early peeks at AMG's future.
According to AMG managers, the A-Class A45 AMG will have around 370hp and 300 pound-feet of torque. The engine is a twin-scroll turbocharged 2.0 liter codenamed M133 and based on the Daimler 2.0 liter turbocharged powerplant. These figures give it the highest series-production power-per-liter rating in the world.
Secondly, it will be the first AMG engine not built at Affalterbach, but at Daimler's four-cylinder assembly plant at Kölleda. The Germans will still use the one-man, one-engine principle.
The A45 AMG will have four-wheel-drive, AMG Speedshift DCT seven-speed dual clutch transmission and a rear differential. It also features an AMG sports suspension with independently developed front and rear axles, electromechanical AMG speed-sensitive sports steering, AMG high-performance braking system and three-stage ESP with Sport Handling mode.
Finally, there is a good chance Mercedes will offer an optional Driver Package, that will let the top speed go to 280km/h versus the stock 250km/h.