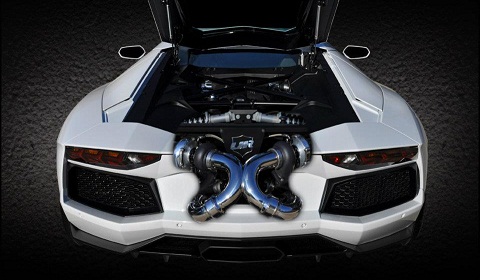 Underground Racing have become the fourth tuning company to offer a tuning solution for the Lamborghini Aventador LP700-4. While Underground Racing didn't want to share too much with the competition, we're told that the car pictured in the video is actually fitted with the first Twin-Turbo conversion for a Lamborghini Aventador!
Underground Racing reckon its putting out 1200hp. By comparison, a Stage 1 tune for a Lamborghini Murcielago puts out 700whp on pump gas (93 octane) and the Murcielago SV LP 670 Stage 2 kit with engine modifications put out 1100whp as Underground Racing's strongest Murcielago tune. The Aventador Twin-Turbo features a full engine built which Underground Racing found was essential for the Aventador. This particular car features Quickshift upgrades to the gearbox.
With 1,200hp, Underground Racing predict that the Aventador should hit 100km/h in just 2.2 seconds. Underground Racing did reveal that making the necessary modifications to the car required a lot more work than any previous Lamborghini model. Enjoy the video and expect a reply from Heffner Performance at some point!
For other Lamborghini Aventador tuning solutions check out the Mansory Lamborghini Aventador, the Wheelsandmore Lamborghini Aventador LP777-4 and the Oakley Design Lamborghini Aventador LP760-2.
[Via Luxury4Play]