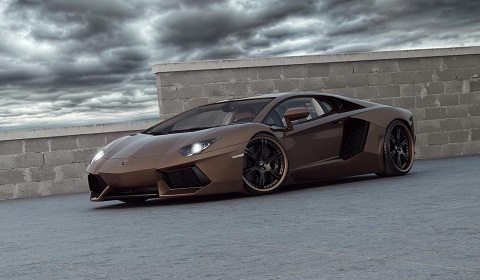 Wheelsandmore have presented their plans for a Lamborghini Aventador tuning package. It gets the name Lamborghini Aventador Chocolate LP777-4 after its chocolate brown exterior. Modifications will be made to the engine to unlock some extra performance, several different sets of wheels are available and a new exhaust system will be fitted.
Starting with the performance modifications. Wheelsandmore estimate that they will be able to release 77 extra horsepower and 70Nm of torque. The upgrades come in two stages, the first adds a simple software upgrade to increase power to 730hp. The second stage offers software upgrade, a stainless steel exhaust with remote valve flaps and a carbon airbox. This offers the full 777hp. These cost 3,900 euros and 14,808 euros respectively. Both figures are net of tax. The dramatic price difference reflects the extra cost in manufacturing the complete stainless steel exhaust system by hand!
The wheels are Wheelsandmore's own design, 6 Sporz² ultralight forged wheel set's. These are made in Germany measuring 9,5×20 inches at the front and 12,5×21 inches at the rear. The tyres are Pirelli 255/30/20 at the front and 355/25/21 at the back. Unlimited color and surface finishes are possible, Wheelsandmore mention the carbon-look surface you see in the pictures, swarovski elements and 24 karat gold plating.
Alongside the ultralights, Wheelsandmore also offer 6Sporz² megalight forged wheels. They feature a full carbon rim with forged centers. The measurements are identical to those above. The ultralights cost 11,345 euros per set, pricing for the megalights is available on request. Wheelsandmore offer full colour resprays starting at 5,000 euros. The full price of this car would be 26,153 euros.