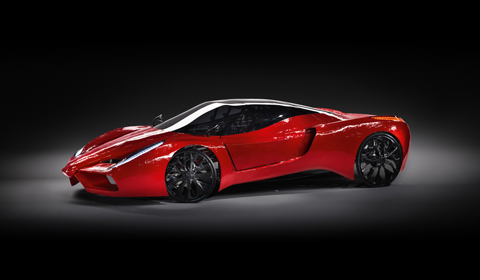 Remember the Ferdinand GT3 RS, the world's slowest Porsche? The mastermind behind the pedal-powered 'supercar' is Hannes Langeder from Austria. Now he is back with a new pinnacle in automotive engineering which gives a whole other meaning to the phrase 'pedal to the metal'.
The website of the Fahrradi Farfalla FFX states the following:
The car's name is a combination of the German word "Fahrrad" ‒ which means bicycle ‒ and "i" which is borrowed from the Apple society. Following the tremendous success of the predecessor object Ferdinand GT3 RS, the current model Fahrradi Farfalla FFX is an attempt to further develop the concept of the mimicry encasement based on muscle-driven drive technique (muscle car) in an evolutionary manner.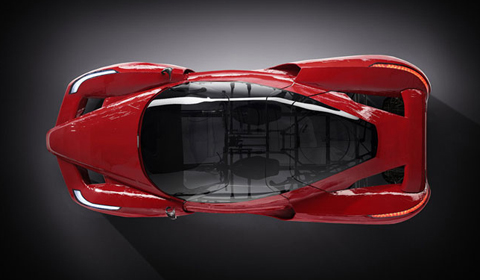 The design is clearly based on the Ferrari Enzo and FXX, but perhaps it's better to let the creators explain it themselves:
Unlike the Ferdinand GT3 RS, however, the Fahrradi is not a copy of an existing car model, but rather the anticipation of a future top model of an actually existing automobile brand. The external form of the vehicle is the result of Internet research into various real and fictive design ideas about what this vehicle could look like, but also our own ideas of design and, not least of all, a substantial portion of clairvoyance.
The Fahrradi Farfalla FFX is powered by one or two humans with direct injection. The performance and output depends on the driver, but creators claim a staggering amount of one-third horsepower. The exhaust is also human, but there is no word regarding the emissions.
The pedal powered super sports car comes with two major innovations which will eventually benefit everyone on the road:
An interesting feature is the built-in butterfly mechanism. An angle gear attached to the rear axle moves the wing doors while driving, resulting in a wing beat similar to that of a butterfly ("Farfalla" in Italian). The next innovative step was the attempt to further constrain the already extreme slowness of the predecessor Ferdinand through an even greater transmission ratio. This makes the Fahrradi a serious rival for pedestrians in street traffic as well.
The Fahrradi Farfalla FFX made it's world premiere at the Lentos Museum of Modern Art in Linz, Austria, where it will be on display until the Fourth of July.
It's also worth mentioning that Hannes Langeder and his team MT Racing are currently working on a new project dubbed "Veyron UC". We can't wait for it. In the meanwhile enjoy the extensive gallery at Flickr and the hilarious video!