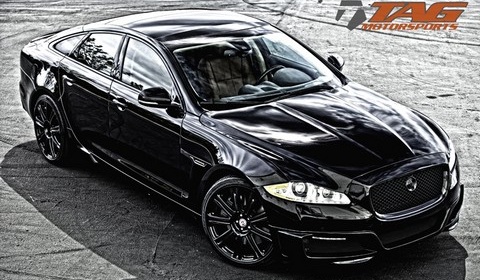 California-based tuner TAG Motorsports struggled with the idea that tuned Jaguars are rather rare on the streets. With that in mind they decided to create an eye-catching car by combining the packages of two of the best tuners in the market, Startech and HRE Wheels.
The base for the project was a Jaguar XJ Supercharged fitted with a kit from German tuner Startech, a package that was officially presented at the end of 2011. Once the car was finished, TAG Motorsports got in contact with HRE Wheels who provided them with a set 21 inch HRE P93L in gloss black color with the wheels wrapped in Pirelli PZero Nero tyres. The final product got named "The Black Cat".
The Startech package comes with redesigned front facia with integrated LED lights, front fender elements, new side skirts, a rear bumper with integrated exhaust tips in a matte black color, a decklid spoiler and illuminated door stills. To finish they applied a black accent to all the grilles and detailed the chrome in a gloss black color.
[Via Luxury4Play]