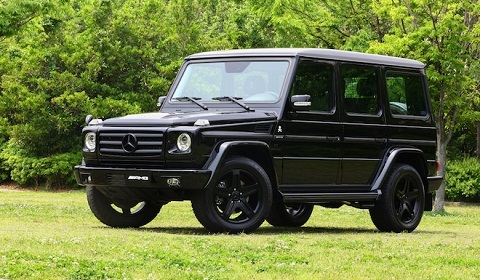 One of the final Mercedes-Benz G55 AMG editions to leave the factory will be the Mastermind Japan Mercedes-Benz G55 AMG. It was announced last Tuesday and follows Mercedes-Benz successful sponsorship of the Tokyo Fashion Week. The design is a collaboration between Mastermind Japan, a modern menswear manufacturer and the German manufacturer and it is now on sale.
Each Mastermind Japan Mercedes-Benz G55 AMG will be made-to-order and will feature the Mastermind Japan logo, a skull, on several surfaces throughout the car. Paintwork will be limited to Obsidian Black which you see in the pictures. The only distinguishing feature on the outside is the inclusion of a Mastermind Japan logo below the rear view mirrors.
The concept was announced back in October 2011. We are now told that five cars will be available through Japan's nationwide Mercedes dealership network priced at ¥20,000,000 which converts at todays currency rate to 200,600 euros. Unfortunately, the order books will be closed at the end of today though, so our Japanese fans need not rush out to place their orders!
[Via Fashionsnap]