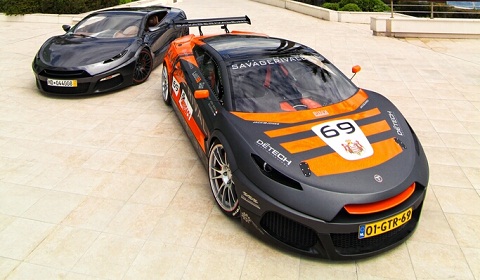 Savage recently sent through a set of photos featuring their Savage Rivale Roadyacht GTS and Savage Rivale GTR showing both cars in the principality of Monaco. The Rivale GTR is the latest model to come from the Dutch supercar manufacturer. We revealed yesterday that Savage will be displaying the Rivale GTR at Goodwood which means that British fans of the Rivale will get a chance to see the unique supercar in just a months time.
The Savage Rivale Roadyacht GTS is an incredible machine. It's designed for riviera cruising, as a result, it looks sensational with upwards rising doors, hinged at opposite ends, creating perhaps one of the most striking features of the car. Similarly, the periscope convertible roof also has a unique action with a telescopic arm which retracts the five glass panels that make up the roof and packs them neatly into a rear compartment.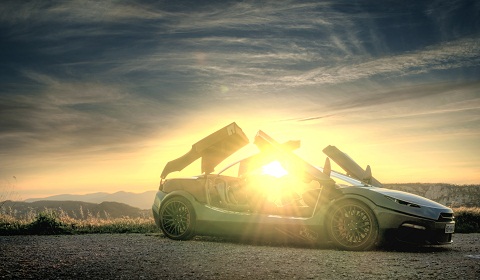 The inclusion of a turbocharged 6.2 liter V8 power plant just adds to the opulent feeling of the Roadyacht. Power is rated at a staggering 670hp and 720Nm of toque which provides a snarling soundtrack to fit the showboating looks. This is fitted to a chromoly chassis (a mixture of chromium, molybdenum, carbon and iron) which allows a total weight for the road yacht of just 1,345kg! The best thing to compare that to, we think, is the Mercedes-Benz SL65 AMG which has less power, a smaller engine and only two seats. That weighs in at a portly 1,950kg!
As far as suspension components go, the Savage Rivale Roadyacht GTS uses a double wishbone configuration with fully adjustable coilover system and a hydraulic lift. Coupled to this is a set of carbon ceramic brakes with 380mm and 365 two-piece discs and six and four piston monobloc calipers. The Roadyacht GTS' titanium exhaust system has a built in silencer unit which Savage refer to as a 'stealth' mode! Finally, the GTS gets a semi-automatic six-speed gearbox.
Inside, you'll get carbon fiber, aluminium, leather, alcantara and teak surfaces. The seats are electronic adjustable units manufactured from carbon fiber and fitted with heating and memory. Extras will include a champagne cooler, multimedia touch screen controlled interface, anti theft system, sec5 system and a custom keyless entry integrated into a watch. Six exterior colour choices include wildfire orange, gun-metal grey, panthera black, belize blue, chrome purple and pearl white.
Only twenty Savage Roadyacht GTS' will be built with six already spoken for. The price is a considerable 411,750 euros excluding taxes, almost double the price of the Mercedes-Benz SL65 AMG. Yet we think it's definitely going to appeal to the Riviera jet set who want something that carries four people and gets you noticed at the same time.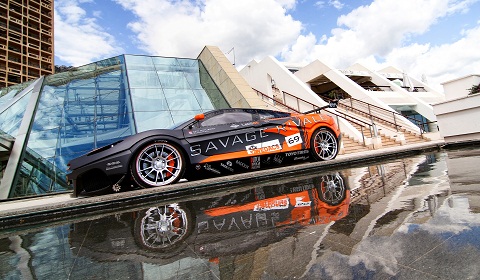 While the Roadyacht GTS is more of a cruiser, the Rivale GTR adds an extra element of racing spark to the package. The GTR is limited to 69 models so it should be the main model of the Savage range despite not being street legal! Savage offer the same engine with extra modifications to increase the output to between 700hp and 800hp. It's essentially an ultimate track day car, weighing just 1,030kg. On request, a road legal version can be produced called the Rivale GTRS.
The GTR loses the Roadyacht's gimic doors, replacing them with two scissor doors. It gets a static roof which replaces the Roadyacht's telescopic roof. It also gains a spoiler, a rear diffuser, a straight through exhaust pipe and a striped out interior. Another key difference is the fact that the GTR uses a manual gearbox six-speed gearbox which replaces the GTS' semi-automatic six-speed. Both cars are of course, rear engined and rear wheel drive.
The GTR features a double wishbone a-arm with a fully adjustable coilover system and a ceramic Brembo braking system. Inside, you'll find fixed carbon fiber race seats with 4, 5 or 6 point safety harnesses. Safety equipment includes a fire extinguisher and a suspension tool kit. List price for this is a reasonable 141,250 euros excluding taxes. Of course, the price reflects the fact that, unless you've ticked the road legal option, you won't be able to use the GTR on the road!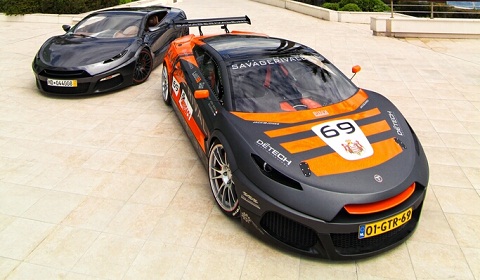 The final thing left for us to do is to introduce you to a few performance specs! Starting with the Roadyacht GTS, Savage claim the 0-100km/h time as 3.4 seconds with a top speed of 330+ km/h. The Rivale GTR, by contrast, should be capable of reaching a 100km/h in just 2.8 seconds and a top speed of 360+ km/h.
The first customer cars should be leaving the factory before the end of the year. We've tracked the progress of this small Dutch supercar company from the very beginning. If you want to view more photographs, feel free to check out our photo shoot back in 2009. For more details on the Savage Rivale, please head over to Savage's website or Facebook account.