The Savage Rivale concept caught our attention on this years Top Marques Monaco motor show. Back in Monaco the Savage Rivale wasn't road-going yet but recently we were invited to see the Savage Rivale in action on the Zandvoort race track for the first time.
The Savage Rivale is a brainchild of Industrial Product Design students Emile Pop and Justin de Boer. The idea behind the Savage Rivale is to build a unique and fast four-door convertible that you could picture along the Cote d'Azur. The first track test took place at former F1 race track Zandvoort in The Netherlands. The Savage Rivale is not build for racing and is not likely to be tracked by future owners. Together with famous race-engineer Wiet Huidekoper a new chassis is being developed as we speak. The Rivale will have world's first and only carbon fibre four-door monocoque in the world weighting less than 100kg.
The production version of the Savage Rivale will be powered by a 6.2 liter V8 LS9 engine from Corvette. The exact performance figures are still subject to change but we can tell you that the Savage Rivale will be shown in Italy for the first time on thé Privatdrive Supercar Show in Milan on the 6th and 7th of February 2010. New features shown in Milan will include an upgraded interior, new carbon fibre seats and an automatic folding roof.
Emile Pop told us the Savage supercar will be available in only four, season related colors; Orange, White, Black and Gun-Metal. It will be build in a factory in The Hague, Holland. The first LS9-powered production model will be available at a price of 400.000 euro excluding taxes, from the first quarter of 2011. Production starts in March 2010.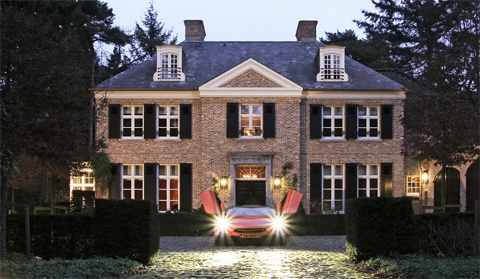 Three features that express what kind of car the Savage Rivale really is, are the transparent champagne cooler with a bottle of Cristal between the two seats in the back, the four-wing doors and the transparent engine cover in the dashboard that shows the 6.2 liter V8. After our visit to Zandvoort where we saw the Savage Rivale in action for the first time, we had the option to do a full photo- and video shoot with the latest Dutch supercar.
Let us know what you think of the Savage Rivale!