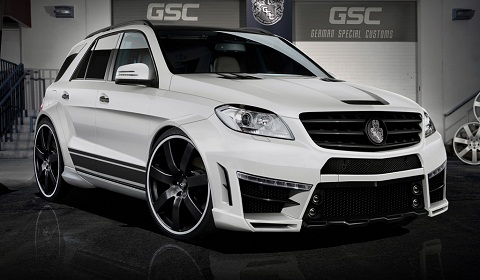 We've seen quite a bit from German Special Customs (GSC) over the past few days. GSC released a bunch of renderings at the start of the year, the trouble is, they failed to anyone about them! After seeing their first design, the Mercedes-Benz CLS 63 AMG Stealth at Top Marques Monaco, we now have an insight into what they want to create! This is another of their planned body kit conversions; The W166 Mercedes-Benz ML Typhoon!
GSC have created a wide body kit for the German SUV. The extra parts are built using carbon fiber. The kit features a new front bumper with its own unique style, a lower rear bumper, a set of side skirts, fenders flares, a carbon fiber grill and a new hood design featuring a central air scoop. GSC have also revealed that they plan to fit a new twin exhaust system with stylised quad tips.
We're not sure what model of the third generation ML-Class GSC are proposing this kit for, however, we think it would fit the Mercedes-Benz ML63 AMG. On the ML63, the bodykit would feature alongside Mercedes proven 5.5 liter V8 producing 510hp. Hopefully it fits the entire W166 ML-Class range though.
At the moment, the Mercedes-Benz ML Typhoon is just a rendering. However, now that we've seen the Mercedes-Benz CLS 63 AMG Stealth by GSC on the streets, hopefully these renderings will become reality at some point in the near future. GSC have partnered with established tuners Enco Exclusive to make it easier to bring their designs to life.
GSC have also released renderings of the Porsche Panamera Turbo Nighthawk, the Lamborghini Aventador Triangle and the Lamborghini Aventador Estatura GXX.