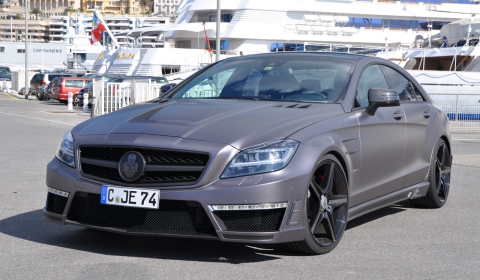 The specialists of the German Special Customs offer a newly developed package for the current Mercedes-Benz CLS 63 AMG generation. Their program features an aerodynamic assembly kit with the designation "Stealth", new wheels and a technical upgrade to the engine.
The front looks clearly broader and much more aggressive thanks to a new bumper with an integrated LED daytime running light. The black radiator grill was fitted with the German Special Customs emblem. A new engine hood has a broad shaft for engine cooling. The optical broadness is additionally accentuated by a set of new mud guards and new side skirts with shaft.
Like the front side, the rear also looks more aggressive than in the serially produced version due to a new bumper with integrated carbon fiber diffuser and air outlets on the sides. A four-pipe sportive exhaust system made of high-grade steel with angular end-pipes was integrated in the diffuser.
In addition to the aerodynamic components, the GSC CLS63 AMG was also given a performance package. The upgrade offers an increase to 750hp and a maximum torque of 1,150Nm from the 5.5 liter engine. This is an increase of 225hp. To achieve this power boost, the technicians gave the V8 Biturbo an additional water cooler for the charge air intercooler in addition to a set of bigger turbo-chargers as well as an exhaust system. The GSC CLS63 AMG is able to achieve a sprint from 0 to 100km/h in just 3.7 seconds thanks to this brute power and has a maximum speed of almost 350km/h.
To convert the power into propulsion without any major loss of traction, a set of 20 inch rims was provided in addition to a KW coilover with adjustable suspensions on the front axle. The GSC rims on the front axle rotate in 8.5×20 inches with a 255/30R20 Continental tire and on the rear, in 10×20 inches with 295/25R20.