There are few men in the world of racing that epitomise the sport as much as Carroll Shelby. From being a racing driver to a hugely successful car designer, he has held some of the most coveted jobs in the industry but he also excelled in them.
He was born on January 11th 1923 in the small Texan town of Leesburg. His father, Warren Shelby was a postman and his mother, Eloise Shelby, was a housewife. But before his life had even began he was fighting for it, at the tender age of seven he had to battle with major heart problems that left him bed bound for the majority of his early childhood.
Fortunately for Shelby and the world of racing, by the age of fourteen he was given the all clear and he had fully over come his health problems. This allowed him to Woodrow Wilson High School in Dallas, where he had his first taste of racing with his father's Willy's.
Shortly after graduating from Woodrow Wilson High School, he was enlisted into the US Army where he served as a flight instructor and test pilot. He was only 16-years-old when he was enlisted and he left in 1945, seeing no action at all.
During his short lived spell in the army, he married his high school romance Jeanne Fields on December 18th 1943. They had three children – Sharon Anne Shelby born on September 27th 1944, Michael Hall Shelby born on November 2nd 1946 and Patrick Burt Shelby born on October 23rd 1947.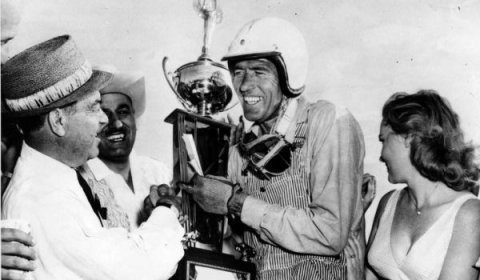 For Carroll Shelby, the 40s were a mishmash of leaving the army, starting a family and settling down. During the 50s he began his career in racing, starting out as an amateur driver before he raced professionally for the teams of Cad-Allard, Aston Martin and Maserati.
At the wheel of a customised Austin-Healey 100S, he managed to break sixteen U.S. and international speed records. But his biggest honour as a driver came in 1959, when the 24 Hours of Le Mans race, with team mate Roy Salvadori when he was racing for Aston Martin.
He won the Sport's Illustrated's Driver of the Year award twice consecutively in 1956 and 1957. He even tried his hand at Formula One racing from 1958 to 1958, where he competed in a total of 8 World Championship races.
Health problems had plagued Shelby's childhood and in 1960 further health problems cut his racing career short, as he was suffering from heart problems again. He had been told to stop racing in 1960 but he was determined to keep going, in his last ever race he had to use pain killers just to get through it – he won that race and incidentally the 1960 USAC Driving Championship too.
After leaving the world of racing as a successful driver, he was determined to re-enter it as a successful designer, he just needed a car to work with. In 1961, he caught wind that the Bristol Aircraft Company were to stop producing the four-cylinder engine that powered the AC Ace.
Realising that there would now be need for a new engine, he contacted the people at AC and put across the idea of using an American V8 into the AC Ace instead. They loved the idea; Shelby then sourced some lightweight V8s from Ford and began to build prototypes with the AC Ace chassis.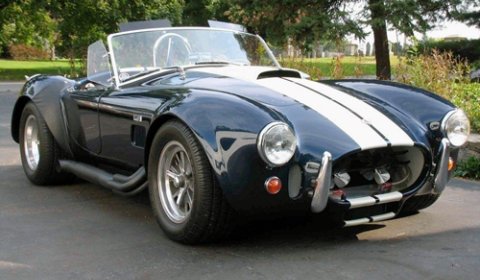 He was able to agree production contracts from AC and Ford, so he now had a body to work with and an engine too – this was the inception of the AC Cobra. In 1962 the car was officially launched, and between auto trade shows and magazine advertising campaigns there was huge amounts of interest and naturally orders came pouring in.
Not only were the AC Cobras immensely popular but they were extremely competitive on the track too, it was the first car to beat Ferrari to a GT World Championship and loosen the Italian team's stranglehold on the world racing.
With the incredible success of the AC Cobra, Shelby was becoming a huge figure in racing and it came as no surprise when Ford head hunted him in 1964 to produce a high performance version of the Ford Mustang. In 1965 he created the Shelby Mustang GT350 and it went on to win numerous SCCA Championships.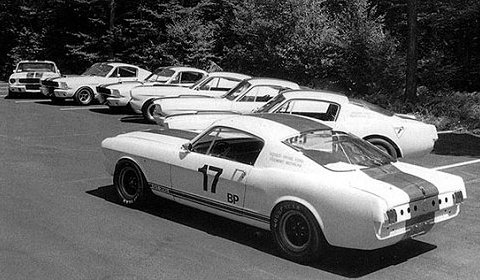 Soon after Ford stopped producing Shelby Mustangs in 1970, Carroll Shelby moved to Africa where he ran a safari tour operator service, but his career change did not last long as he teamed up with Chrysler in 1982.
By 1983, production for the Dodge Shelby Charger prototype was already under way, in terms of engine size, horse power and torque it was a fantastic piece of auto engineering, but it was infamously ugly and was destined to fail.
During this period, Shelby was also working on a brand new sports car for Dodge, which would be a prototype for the first ever Viper, it was debuted at the 1989 Detroit Automobile show.
Shelby had had heart problems all of his life but there was no getting around this episode, in 1990 he had a successful heart transplant. In 1992 he was inducted into the International Motor Sports Hall of Fame, recognising a lifetime of racing achievements in several capacities.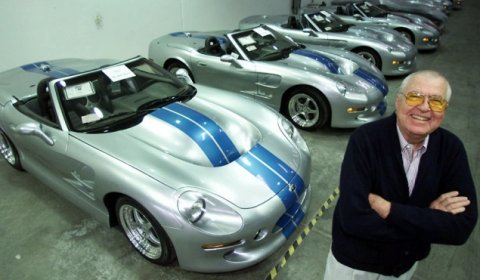 In 1997, Shelby produced the Series 1 sports car, with 4.0 liter V8 engine that had 320 horsepower and 290 feet of torque it was one seriously awesome roadster. An impressive top speed 170mph and 4.4-second 0-to-60 time made it even more awesome – it was also the only car that Shelby built from the ground up.
After leaving Ford in the 70s, Shelby returned in 2003 first with the Ford Shelby Cobra Concept that never made it to production, then with the the Ford Shelby GR-1 in 2004. The Ford Shelby GR-1 did however make it to production, as the Ford GT.
In 2007, in between producing new cars such as the Shelby V6 Mustang, Carroll Shelby opened his own parts company, offering performance parts for various models of Mustang. In 2009, he received another award, with the lifetime achievement award as the Automotive Executive of the Year.
In 2010, Shelby released a 45th anniversary GT350 and the following year saw the release of a special CSX 8000 to mark 50 years of the 289 Cobra. In 2011, Automotive News honoured him with a lifetime achievement award.
On April 25th 2012, it was released by statement that Carroll Shelby had been admitted to hospital due to a case of pneumonia. Two weeks later on May 10th Shelby tragically passed away, leaving behind an incredibly automotive legacy.