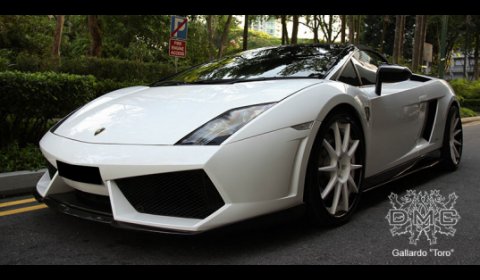 Tuning Lamborghini is DMC's core business. The German luxury tuner has released their latest styling and performance package for the Lamborghini Gallardo.
The new body kit, made of 100 procent carbon fiber features a new carbon fiber front lip spoiler, new carbon fiber side panels as well as added carbon fiber side diffusers. In addition, DMC added a new carbon fiber rear spoiler wing on the top, and a bigger carbon fiber rear diffuser on the bottom.
DMC also added a new dynamic element by placing 20 inch forged rims with a special coating. The new wheels are extremely light, yet very strong, and come in sizes 9,5Jx20 (235/30ZR20) at the front axle, and 13Jx20 (325/25ZR20).
On the performance side, DMC offers a new engine electronic, which enables the DMC Toro increased power of 580hp and a maximum torque of 575Nm. This pushes the new Toro's top-speed to 330km/h. This is also supported by the new sport exhaust system which is manufactured of titanium. The straight design offers a brutal new sound and adds 20hp.