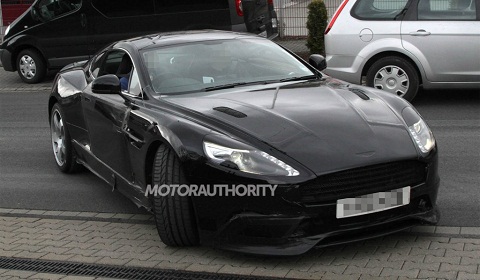 Spy photographers have caught what looks like a partially undisguised mule for the Aston Martin DBS parked up in Germany, near the Nurburgring. The shots reveal significant changes to the cars design with a more aggressive look thanks to many new parts. The spyshots also reveal that work is still ongoing for the supercars interior.
The 2013 Aston Martin DBS should get its official unveil at the end of the year. For now, we can talk about what we see on this test mule. Larger wheels arches are the most noticeable change, alongside a new front bumper with a deeper, more agressive look. The wing mirrors are fixed to the door and the rear also gets a number of design modifications.
Under the bonnet, Aston Martin will fit the same 6.0 liter V12 as you currently find in the V12 Vantage, DBS and DB9 models. It should get a power boost to around 600 hp. We like the new look. There's still quite a bit of camouflage hiding the designs details meaning that we won't get to see the full design until the official release. We expect to see the new Aston Martin DBS at the Paris Motor Show in September this year.
For more pictures, visit Motor Authority.