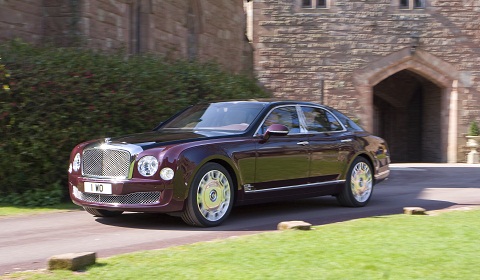 Bentley will produce sixty copies of the Bentley Mulsanne Diamond Jubilee Edition to celebrate Queen Elizabeth II's Diamond Jubilee which is being celebrated in Britain and the Commonwealth this year. Whilst the intention is there, the action isn't quite. Bentley won't be displaying the first example in England, in fact, they won't even be displaying it in Europe. It will be unveiled at the Beijing Motor Show, a cool 8,159 kilometers away from the monarch Bentley tries to commemorate.
The Mulsanne Diamond Jubilee Edition went on display at the new Bentley dealership in Beijing, one of the worlds largest. It was developed by Bentley's Mulliner division, the team that produced the Queen's current State Limousine. Just sixty of the Mulsanne Diamond Jubilee Edition's will be built. Special features include bespoke embroidery to all four headrests using gold stitching, veneer picnic tables in the rear cabin decorated with a gold overlay depicting a royal carriage and cushions wearing the same design.
The Bentley Mulsanne Diamond Jubilee Edition gets the same twin-turbocharged 6.75 litre V8 engine as the standard Mulsanne. Power is 512hp at 4,200rpm, toque figures are 1,020Nm produced at 1,750 rev/min. This gives a 0-100km/h time of 5.3 seconds and a top speed of 296km/h. The colours available for the special edition include Beluga over Claret (duo tone), Black Sapphire, Claret, Pale Sapphire over Black Sapphire (duo tone), Pale Sapphire and White Sand. Inside, the colours are fixed to Linen, Burgundy and French Navy.
You'll be able to distinguish the model by its highly-polished stainless steel treadplate plaques with the words 'Bentley Mulliner, England' and 'Diamond Jubilee Edition'. Richard Charlesworth, Director of Royal and VIP Relations, Bentley Motors said, "The respect and genuine interest shown towards so many aspects of British life, and most especially The Royal Family, has made China a unique experience for our marque as well as many other UK businesses.
"This series of special cars, hand-built by our Mulliner Division, is our way of reciprocating the appreciation for British institutions, creativity and services we have been shown in China. And as proud holders of a Royal Warrant we also wanted to provide some memorable examples of British technology and craftsmanship."
It seems that all sixty of Bentley Mulsanne Diamond Jubilee Edition's will be sold in China. If your wondering why, the answer lies in the final paragraphs of the press release. Bentley delivered 1,664 cars to Chinese customers during 2011. Its first quarter 2012 sales grew by 84.66 percent making China a key market for the German-owned, British manufacturer.
Whilst the success is congratulated, personally, we'd like to see at least a few of these special editions offered in Britain or Commonwealth states.