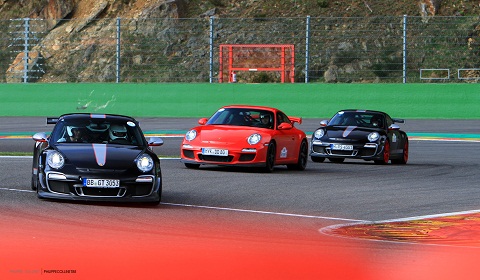 Two events down and 2012 is already a very special year for Gran Turismo Events. Last week, from 11th to 14th April 2012, Spa-Francorchamps opened its gates for two full days of GT Events trackdays. The drivers were accommodated in the nearby city of Verviers, just a 15 minute drive from Spa-Francorchamps!
Philippe Collinet provides our third collection of photos from the event. It was attended by cars such as the Nissan GT-R, Lamborghini Murciélago, Porsche 911 GT3 RS 4.0, Porsche Carrera GT and many more. Instructions were provided by Ron Simons and his team of instructors.
Spa-Francorchamps is a high speed circuit. Seven kilometers long and with twenty one corners, it runs through the mountains of the Ardennes. Corners such as Eau Rouge and Blanchimont test drivers skill and courage, demanding perfection to achieve the fastest lap time. Only 80 cars were admitted entry to the event this year for the price of 2400 EUR (+ VAT).
Don't forget to check out Philippe Collinet on Facebook and other GT Spa galleries by Mike Crawat and Dennis Noten for more photos!