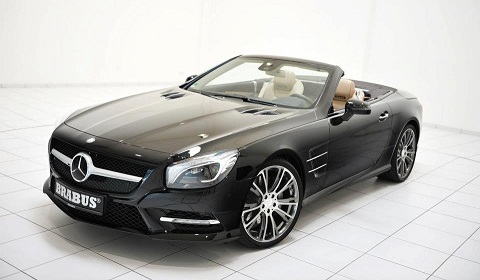 Brabus now have a copy of the 2012 Mercedes-Benz SL 500 to work on! It seems Germany's premier Mercedes-Benz tuner took delivery of the new R231 SL recently and already set about adding a badge or two with a set of new wheels to show that the car is all theirs!
We expect Brabus to fit the usual upgrades to this vehicle. A new bodykit featuring a wider, more aggressive stance, a set of suspension upgrades to match the wheels, a new interior and a complete performance package. The wheels in the photos are Monoblock R designs finished in a Smoked Liquid Titanium colouring. Two sets of five double spokes are arranged one on top of the other for a complex look. They are available from 18 inches in size, all the way to 22.
Hopefully, by the time the project is done, you will be able to compare the changes from start to finish. We expect Brabus to fit a mild set of upgrades to this vehicle. The previous generations saw power gains of up to 139hp over the standard models, whereas the extreme modifications were reserved for the SL 600's with their V12 power plants.
The time frame for the work, we speculate, will probably bring the release up to September's Paris Motor Show.