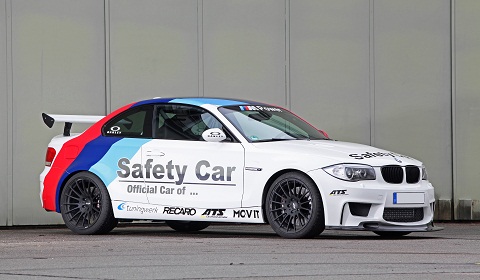 Tuningwerk have unveiled their latest project based on the BMW 1-Series M Coupe; the 1M RS. The Tuningwerk BMW 1M RS is a comprehensive tuning package with upgrades for the aerodynamics, exterior cosmetics, performance, brakes, suspension and interior. It's aimed at getting the absolute best out of BMW's smallest M-car. We hear that the stickers are optional!
The Puchheim-based tuner has shortened the transmission ratio up to 3.25 meaning that the transmission now makes less turns to each wheel revolution. Optionally, Tuningwerk can change this to 3.45. They fitted a locking differential and a modified cooling system including a second oil cooler. The exhaust is a titanium system and a racing clutch can be fitted as an option.
The six cylinder, three-liter BMW engine now produces 521 hp and 614 Nm of torque from 2,800rpm, a gain of 186hp over the standard BMW 1-Series M Coupe. Top speed rises to 300km/h depending on the tyres. The braking system with is a set of 370mm steel discsr by Mov'it, or optionally a set of 380mm carbon ceramic units.
Whilst parts of the car have been optimised for racing, further modifications will need to be made for FIA admission. A better roll cage will need to be fitted and further weight reductions are possible through removal of the door trims and insulation material.
The Tuningwerks 1M RS gets a GT4 front lip, engine hood, boot lid and a rear spoiler all finished in carbon fiber. New Recaro PolePosition seats cradle the drive in leather and carbon trims. Tuningwerk can also instal carbon doors and plastic side glass if you wish to reduce the comfort levels in favour of a full racing spec.
H&R lightweight stabilizers are available on request and forged ATS superlight rims measuring 9×19 inches at the front and 10×19 inches at the back have been added too. 245/35R19 and 285/30R19 Dunlop Sport Maxx tyres are fitted. As an alternative,ATS Flow Forming Crosslight rims of the same size are also available.
Tuningwerk charge 119,000 euro for the complete BMW 1M package, including the donor vehicle.