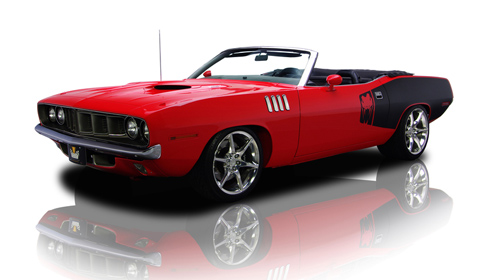 Are you looking for a vintage looking American convertible, but also in need for the performance of a modern-day supercar? Well, here is you chance!
A fusion of two completely different cars is being offered at eBay. The car ‒ dubbed by the guys of Autoblog "Vipercuda" ‒ features the original bodywork of a 1971 Plymouth Barracuda convertible, but underneath it's a 2001 Dodge Viper, complete with the 450 horsepower V10 engine, a bulletproof(!) six-speed manual transmission, and fully independent suspension.
The Vipercuda rides on stock Viper SRT six-lug wheels, 18 inches in the front and 19 inches in the rear, that wear 275/35/18 front and 335/30/19 rear Michelin Pilots. The exterior features a lot of chrome, including the bumpers, door handles and side gills. For extra show-off the electrically operated hood was enhanced with a set "Viper Powered" badges from an Dodge Ram SRT-10 pickup.
The Plymouth Barracuda with Viper V10 power is being offered for $ 180,000. For more information and pictures of the American sports car visit the advertisement at eBay.
[Via Autoblog.com]