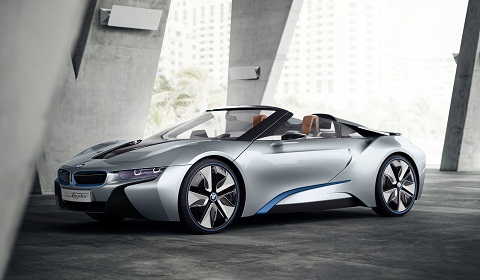 BMW released the BMW i8 Concept Spyder this morning, said to be a pre-production version of the BMW i8 coupe. Despite news in the past that the BMW i8 would not be produced, the overwhelming consensus is that we will now see the sports car on the road in 2015.
The BMW i8 Concept Spyder is a plug-in hybrid powered by a high-performance electric motor and a petrol combustion engine. The lithium-ion battery features 131hp and powers the front axle whilst a three-cylinder petrol engine sends 223hp to the rear. The whole system gives the driver 354hp and 550Nm of torque to play with, enough for 0-100km/h in five seconds and an electronically governed top speed of 250km/h.
The real headline figure is the three litres of petrol per 100 kilometers (or 94mpg) that the two-seater achieves. The electric motor takes just two hours to fully recharge via an ordinary domestic power socket. It is located in the cars central energy tunnel to maintain handling properties. The BMW i8 Concept Spyder will cover up to 30 kilometers (19 miles) on electric power alone.
Intelligent controls define whether power comes from the front, rear or all four wheels. A braking system similar to KERS has been employed too, making the most out of wasted electricity. Technologies such as the camera-based proactive Collision Warning system, Parking Assistant and Traffic Jam Assistant show BMW's ability to incorporate high-tech safety equipment.
The i8 Concept Spyder has a slightly shorter wheelbase and overall length than its coupe variant. It gets the same upward-swivelling, windowless doors and a transparent glass panel at the rear. It also features the Modular LifeDrive architecture with a carbon-fibre-reinforced plastic passenger cell and an aluminium powertrain, chassis and safety structure. The design of the body panels minimises drag and enhances efficiency of shape.
The i8 Concept Spyder uses pioneering laser light technology in its headlights. It gets a two-section folding roof and inside, the controls are focused around the driver. An 8.8 inch (22.4 cm) screen displays all the relevant driving information next to platic, carbon and leather interior materials.
One of the i8 Concept Spyders unique functions is its automatic diary synchronisation with the driver's smartphone. The system registers upcoming appointments and, when plugged into a power socket, ensures that the battery is topped up overnight so that the car is ready for action with a fully charged battery the following morning.