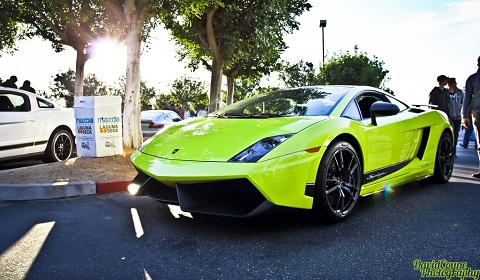 The Californian Cars and Coffee event in Irvine, California takes place every weekend with a wide range of the exotic supercars on display. The idea behind the event is that you turn up on a Saturday morning, park your car with hundreds of other like-minded enthusiasts, grab a coffee and talk supercars!
David Coyne Photography managed to get a gallery of photos from the various events. The most significant car to turn up this weekend was a Vorsteiner Ferrari 599-VX production model. It features carbon fiber body parts that are 70 percent lighter than the standard model and a center exit exhaust modeled on the 599 XX. Ferrari were also represented by the Ferrari F40, Ferrari Enzo and a Ferrari Scuderia Spider 16M.
You'll notice that Bill Wu's Lamborghini Murcielago also turned up, complete with pixelated camouflage wrap. Appearances from a Lamborghini Aventador, Lamborghini Diablo and a Lamborghini LP570-4 Superleggera held up the Lamborghini side of the event. Finally, a Bugatti Veyron, Lexus LFA, McLaren MP4-12C and a set of BMW 1M's complete our gallery.
Enjoy the photos, for more check out David's Flickr account!