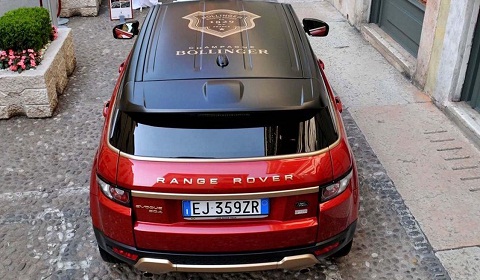 Bollinger, the famous manufacturer of champagne, and Aznom Automotive have joined forces to create a unique promotional vehicle based on the Range Rover Evoque. Whilst alcohol and automobiles might not be the greatest of mixtures, it is something we've seen before on the Overfinch Holland and Holland Range Rover. So what are the features that make this Range Rover Evoque so unique?
First thing you will notice is that Aznom have not replaced or added any pieces to the bodykit. Instead, the car gets a rose and bronze custom paintjob with a matte black roof and, of course, the Bollinger logo! Inside is a custom fitted cream, gold, black and red interior with a fitted champagne holder.
Bollinger is a French Champagne company with roots in the Champagne region. They started production as Bollinger in 1829 but their experience goes back to 1585 when the Hennequins, one of the Bollinger founding families, owned land in Cramant. The Evoque is an SD4 model 2.2 liter diesel Dynamic five-door with 190hp.
The car was unveiled last week on the streets of Verona and it will tour the wine festivals, starting with the Vinitaly 2012 event.
[Via WorldCarFans]