The recently unveiled Ferrari F12 Berlinetta is the most powerful street-legal Ferrari to date. Its naturally aspirated 6.3 liter V12 engine which puts out 730 horsepower allows the Ferrari to accelerate from standstill to 100km/h in 3.1 seconds, while the 200km/h in reached in 8.5 seconds and the top speed is 340km/h.
According to Ferrari, the F12 Berlinetta is capable of lapping the Fiorano test circuit in 1 minute and 23 seconds. This is exactly 1 second faster than the 599 GTO, 1.9 seconds faster than the Enzo, 2 seconds faster than the 458 Italia and 3.5 seconds faster than its predecessor the 599 GTB.
But if you pockets are deep enough and you want a faster and more exclusive Ferrari, than the 599XX will suit you more. The Ferrari 599XX is the hardcore version of the 599 GTB and has recently received a major upgrade. Thanks to this the 599XX Evolution is able to lap Fiorano in 1 minute and 15 seconds.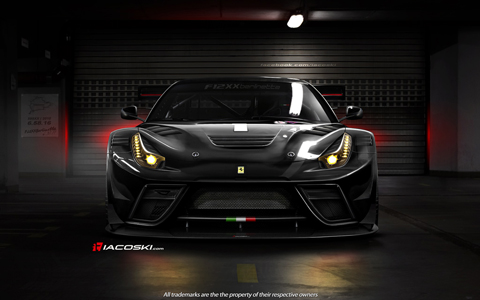 But imagine a F12 Berlinetta designed for track use only, a sports car which combines the best of the F12 and the 599XX. Considering the success of Ferrari's XX program, it is likely that a hardcore version of the F12 will be introduced a few years from now.
Jacek Kolodziejczy, a 30-year old designer tried to imagine how the special, track-only version of the new F12 Berlinetta could look like. Therefore he created these two stunning drawings of the Ferrari F12XX Berlinetta.
For high-resolution versions of these renders click here. For more drawings check out his website or Facebook.