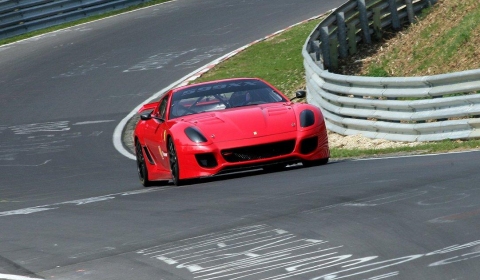 Ferrari claims that the Ferrari 599XX is the first ever production-derived sports car to break the seven-minute barrier on the Nordschleife circuit. The official time set by the track-focussed prancing horse is 6 min 58.16 sec.
However, this is not completely true. A Radical SR8 set a confirmed time of 6m 55s in September 2005, followed by a Radical SR8LM last year lapping the 'Green Hell' in 6m 48s. So the Italians are third fastest ever! Quite an accomplishment.
The 599XX is designed for track but not official competition use. Powered by a development of the V12 engine used by the 599 GTB Fiorano, the 599XX is a one-of-a-kind track racer only for the happy few.
Check out the video below of the record time set on the classic 20.832km track.