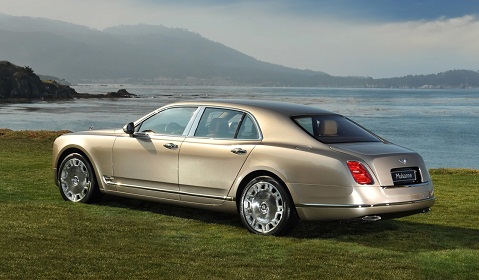 The new 4.0 liter, twin-turbocharged V8 from new Bentley Continental GT will soon also make its appearance in the Bentley flagship Mulsanne. The Mulsanne currently comes with a 6,75 liter V8 motor which is in essence over fifty years old.
The new V8 sets new levels of performance and emissions. The maximum power in the Continental GT V8 is 500bhp at 6,000rpm with a peak torque of 660Nm which is available across virtually the entire rev range from 1,700 to 5,000rpm. Combined with a new close-ratio eight-speed automatic transmission, this translates into a sub-five second acceleration time for the 0-100km/h sprint and a top speed of over 290km/h. In the Mulsanne the output of the 4.0 liter V8 is expected to be higher but the acceleration and top speed is expected to be slightly lower than the sporty GT.
The new V8 achieve better levels of fuel efficiency and CO2 emissions with respect to the engine currently found in the Mulsanne and in the GT its capable of travelling over 500 miles or 800km on a single tank of fuel. The new V8 engine that is developed in cooperation with Audi is also said to be used for the upcoming Bentley SUV.