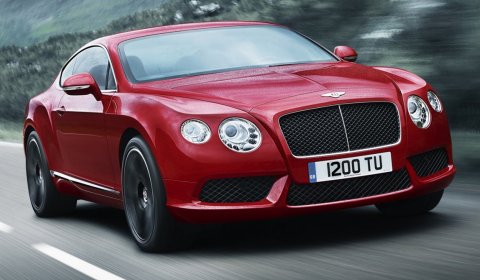 Two new Bentley Continental V8 models will be unveiled at the North American International Auto Show in Detroit on 9th January 2012. We can now share with you the first official information on the Continental GT models fitted with the new V8 engine.
The new 4.0 liter, twin-turbocharged V8 Continental GT coupé and GTC convertible deliver a maximum power of 500bhp at 6,000rev/min and a peak torque of 660Nm which is available across virtually the entire rev range from 1700 to 5000rev/min, Combined with a new close-ratio eight-speed automatic transmission, this translates into a sub-five second acceleration time for the 0-100km/h sprint and a top speed of over 290km/h.
At the same time, the new V8 Continental models achieve better levels of fuel efficiency and CO2 emissions with respect to the existing engine lineup and are capable of travelling over 500 miles or 800km on a single tank of fuel. Full and official figures will be released in early 2012.
The two models are distinguished by a black gloss matrix grille with chrome frame and center bar, a red enamel Bentley 'B' badge, and a black matrix three-segment lower front bumper divided by distinctive body-coloured strakes. At the rear, unique chromed 'figure eight' exhaust tailpipes, a dark lower valance and red enamel 'B' bootlid badge complement the looks.
Both models are specified with 20 inch alloy wheels as standard with an optional 21 inch six-spoke design which is available in dramatic Diamond Black (exclusive to the Continental V8) or Diamond Silver finishes. Inside the cabin, an Eliade cloth headlining, new contemporary Dark Fiddleback Eucalyptus veneers, optional two-tone leather colour split and short centre console continue the design theme.