Today we reported that the Aston Martin V12 Zagato is heading to Kuwait for its official release. The first production V12 Zagato will debut at the Kuwait Concours d' Elegance on 15-18 February.
Following this news we can now give you a sneak preview of the interior of the brand new and production ready Aston Martin V12 Zagato. The 2 Second Club (2SC) was invited to a special event yesterday, attending the unveiling of the new Aston Martin Zagato racer in Vienna. The red race car was introduced at Villa d'Este 2011 and made a tour around the world.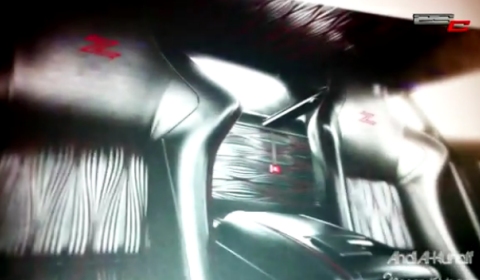 The event was only for a select amount of people, and Aston Martin had a nice presentation about how to place an order and what options are included. GTspirit reader and Aston Martin owner KuwaitiChopper made a video of the event where he received a folder showing some interior renderings.
Inside the video below he shows the renderings to us viewers. You can clearly see the interior design, which is quite similar to the V12 Vantage on which the V12 Zagato is based. Some differences are also noticeable, such as the signature Zagato badges on the racing seats and the pattern used for the roof, door panels, seats and in the rear of the interior. You can also see some parts of the roll cage and there is a manually transmission.
The limited Aston Martin V12 Zagato will have a price tag of 400,000 Euros excluding local taxes.