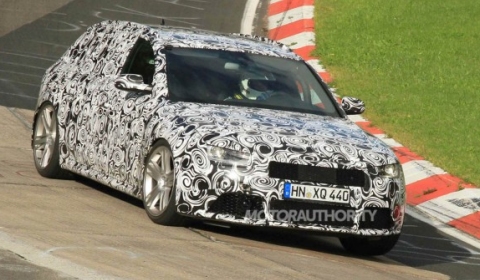 Rumours originating from our friends at Autoblog.nl suggest that the Audi RS4 Avant will be released this year during the third quarter. This suggests a Paris Motor Show debut towards the end of September rather than a March Geneva Motor Show debut. Spyshots of the RS4 Avant have been published in the past few months. They confirm that Audi will make an RS4, if only in Avant variant.
The next-generation Audi RS4 was at one point thought to have been rejected by the Audi board. However, Autoblog's source has confirmed that an estate version will make production. However, when pressed about a saloon and cabriolet version, that were told 'do not assume'. This tends to suggest that the Avant will be the one and only second-generation RS4.
From a corporate point of view, this makes sense. Particularly with the cabriolet RS4, production of such a model would detract sales from the Audi RS5. Similarly, the saloon would do the same. However, this does not make so much sense when you look at the popularity of the B7 RS4, a model that only left production lines for two years, yet in many ways was more successful than the RS5 has ever been.
So what's your view. Would you rather see a full range of Audi RS4 variants or would you just be happy with the planned Audi RS4 Avant?