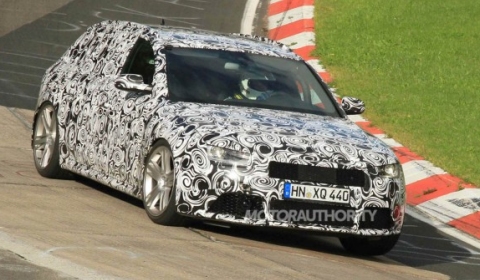 Audi is planning the return of the RS4, since it went out of production in 2008. One of the spy photographers at MotorAuthority recently captured a prototype of the new RS4 while doing some hot laps at the Nurburgring race track in Germany.
The 2013 model is based on a facelifted version of the A4. The test mule is a wagon, but a sedan is also planned. The expected power output could come from a newly developed twin-turbo 4.0-liter V8 also fitted in the front of the recently revealed S6 and S7, but the turbocharged V6 from the S5 could also be an option.
Quattro all-wheel drive and the choice of six-speed manual or seven-speed S-tronic dual clutch transmissions should also be offered.
For more pictures check MotorAuthority.