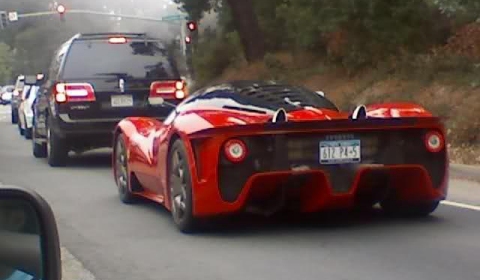 The one-off Ferrari P4/5 was spotted in Queens, New York. The unique sports car is based on the Ferrari Enzo made by Italian sports car manufacturer Ferrari. The P4/5 was redesigned by Pininfarina for film director and stock exchange magnate James Glickenhaus.
The car was an Enzo but the owner James Glickenhaus preferred the styling of Ferrari's 1960s race cars, the P Series. The project cost Glickenhaus US$ 4 million and was officially presented to the public in August 2006 at the Pebble Beach Concours d'Elégance.
The Ferrari P4/5 can accelerate from 0-100km/h in 3.0 seconds (0.5 seconds quicker than the Enzo). It has a top speed of 375km/h, according to the official information.
[Via Exoticspotter]