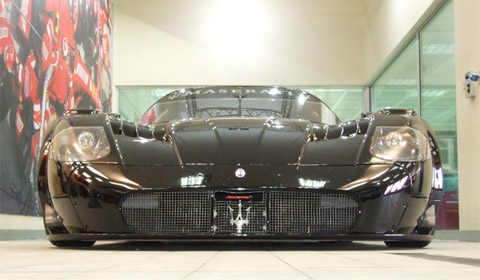 The Maserati MC12 was developed to signal Maserati's return to racing after 37 years. With a limited production run of just 55 cars, from which 50 were available to customers, the MC12 is far more exclusive than the Ferrari Enzo on which is was based (or the Bugatti Veyron and McLaren F1). Now the most exclusive of all MC12's is currently for sale.
The Maserati MC12 Corsa is the hardcore variant of the MC12 intended for racetrack use. The Corsa shares its engine with the MC12 GT1, the 6-liter V12 produces 755 horsepower at 8,000rpm — 122hp more than the original MC12. This car has a top speed of 330km/h and it is capable of accelerating from 0 to 200km/h in just 6.4 seconds.
Only fifteen of these variants were ever made. Three vehicles were produced for testing and publicity purposes and twelve were sold to valued Maserati customers who could only use this car for track days as it wasn't homologated for use on public roads.
The MC12 Corsa with serial number #01 was modified and certified for street use. The Italian supercar received a series of modifications including a catalytic converter and silencer and a fuel system adapted for use with petrol pumps. The chassis has also been raised to increase the ground clearance of the car, the dampers and springs have all been changed, and an air jack has been fitted in order to tackle speed bumps.
This exclusive car is being offered at Mobile.de. Interested? The price tag is just over a million euros.