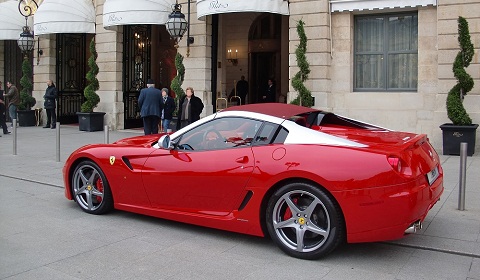 Our friend Alexsmolik recently caught his first Ferrari 599 SA Aperta on the streets in Paris. The car was registered to a Qatar owner who had specced a Rosso Corsa exterior with a red interior. It's one of just 80 to be made as a final tribute to the Ferrari 599 and to celebrate Pininfarina's 80th anniversary. The limited numbers make it rarer than the Enzo, F40 or F50.
SA refers to Sergio and Andrea Pininfarina. The 599 SA Aperta doesn't have an automatic roof but a manually removable soft roof. The engine is the same of the 599 GTO producing 661hp and 620Nm of torque. The 599 SA Aperta accelerates from 0-100km/h in 3.6 seconds and has a top speed of 325km/h.
All owners were encouraged to personalise their cars with the intention that no two cars be exactly the same!