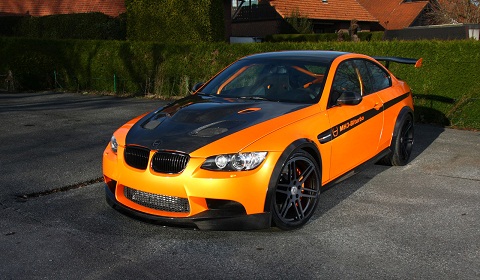 Manhart Racing have announced their latest BMW M3-based project which uses a large amount of components from the BMW X6 M. It's a pretty comprehensive kit with a pretty loud exterior look!
Manhart racing have fitted the 4.4 liter V8 engine from the X6 M to this particular M3. Increased performance comes thanks to a Biturbo power conversion taking the figures from 555 to 750hp and 910Nm of torque. A larger air cooler has been fitted and reinforced pistons and rods were also used. In addition, the X6 M cooler package and an additional oil cooler were installed. Weight is down to 1,590kg, giving the MH3 V8 RS Clubsport has a power to weight ratio of 2.12kg/hp. The exhaust system is titanium and has two racing catalyst.
0-100km/h takes just 3.2 seconds, top speed is beyond 350km/h. The MH3 V8 RS Clubsport has the six-gear automatic sports gearbox from the X6 M, as well as an E60 M5 locking differential. Brakes are uprated to MOVIT units in sizes 396×34 millimetres with six-piston fixed callipers at the front and 380×32 millimetre four-piston callipers on the rear axle.
Manhart Racing has also added new carbon body parts to the MH3 V8 RS Clubsport including GTR air slots for the new bonnet, a trunk lid in the style of the CSL, an adjustable front spoiler, carbon fiber wheel arches for the front and rear, side sills and a tail diffusor. The side mirror casings are also made of carbon.
Manhart Racing ultra-light Concave One "Black Edition" monoblock forged wheels have been fitted. The sizes are 9×20 inches at the front with 255/30ZR20 Continental Sport Contact 5 high performance tyres. At the back, you get 12×20 inch rims equipped with 325/25 Continental rubber. The M chassis has apparently been replaced by an MHR Clubsport threaded chassis.
Inside, Manhart Racing has built an in-house carbon racing seat and a carbon fiber interior package. Fine alcantara covers the door coverings, canopy and trunk lining. A BMW performance steering wheel with illuminated rev lights, and an additional Manhart Racing display which measures G-forces and acceleration as well as Vmax figures has also been fitted. Finally, a Wiechers roll cage with back and flank protection has been added and finished in the vehicle's colour.