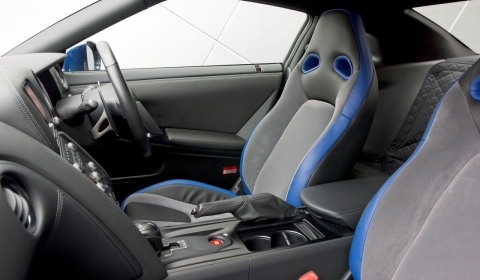 Nissan has developed a new version of the 2013 Nissan GT-R for drivers who want an extra edge on the race track. The package is called 'Track Pack', and this new version of the GT-R offers a harder edge and yet remains fully road legal. Externally the Track Pack is easily identified by lightweight six-spoke RAYS alloys with gloss black painted centers.
The brakes behind these are cooled by additional cooling ducts built into the front bumper. These reduce the operating temperature of the front brake discs by as much as 100 degrees during track use, improving the stopping performance. Similar ducts, hidden behind the rear wheels, channel cooling air over the rear discs.
The suspension's spring rates have been revised to be optimal for track use. Like all GT-Rs though, the dampers are adjustable to offer more comfort when the car is being used on the road.
On the inside, Recaro front seats are trimmed with blue bolsters and an innovative high grip material to help keep the driver in place during hard cornering and braking. The rear seats have been removed to save weight. A 'Track Pack' emblem on the center console identifies this model as a special GT-R.
The engine retains the same specification as the 'regular' 2013 model GT-R, which means 550hp of power. The 0-60mph time is just 2.7 seconds. The Track Pack adds £ 10,000 to the £ 74,450 list price of the standard MY2013 GT-R, making it £ 84,450. The package is only available on RHD cars and in the UK and Japan. The first deliveries are expected in March 2012.