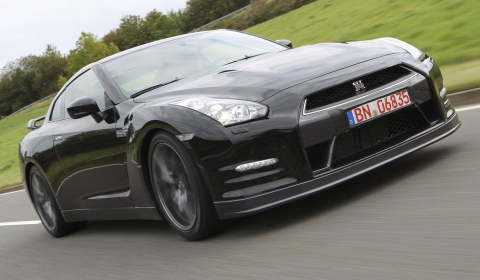 Nissan has today released the 2012 model year Nissan GT-R. The 2013 Nissan GT-R goes on sale November 24 in Japan and arrives in European showrooms in January 2012.
Godzilla received 15hp more up to a total of 550hp, an improved fuel economy and lower emissions. The suspension setup has been improved using unique asymmetric suspension settings on the RHD cars. The new lightweight "For Track Pack" version, currently available in some markets, such as Japan and UK, is only available on RHD cars. It inherits the DNA of the Spec-V model and turns the GT-R into a light-weight two seater for the ultimate trackday performance.
The package includes revised suspension settings, extra brake cooling (front and rear), and aluminum-alloy wheels from the Spec-V made by Rays (with black quartz chrome color coating). The front spoiler with carbon air duct has been exclusively made for this edition and is installed as a set. The two-seat configuration has quilted fabric mats in place of the rear seats. The front seats are covered with leather and high-grip fabric.
Other improvements are an enhanced transmission shift feel, special race tuned oils used in differential, body strengthened for even greater handling finesse, ceramic brakes as an option on the Premium Edition and Egoist models, new Bose Precision Sound System woofers and a rear view camera is now standard. The interior has been enhanced by adding blue lighting inside the tachometer ring to match the shift position indicator light giving a more sophisticated atmosphere in the cockpit.
Some figures confirmed by MotorTrend state that during Nissan's testing they reached 60mph in 2.7 seconds and a quarter mile in 10.8 seconds, a full 0.4 seconds faster than the 2012 model. These numbers seem to confirm our earlier story that the new 2013 Nissan GT-R would be a lot faster in a straight line and on the Nurburgring Nordschleife. 7 to 8 seconds faster to be precise!
Stay tuned for more official times and figures when Nissan takes the 2013 GT-R for a spin on the Nurburgring. Do not be amazed if they reach lap times between 7:16.22 and 7:14.22.