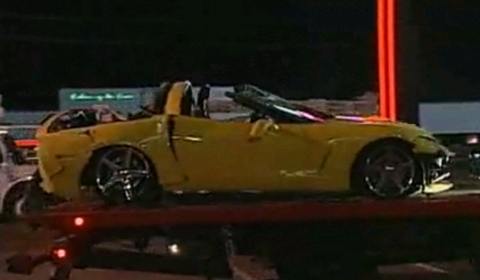 Saturday night at least two people were injured after a bizarre crash sent a Corvette airborne in Norwood, USA. The Corvette crash in front of Jake & Joes Restaurant about 5:27 PM.
Police officials stated that the woman driving the Corvette came out of the dealership on Route 1 and lost control of the sports car. The car flipped, hit two other vehicles and a pole before landing upside down. The driver was flown to a hospital. One person from one of the other vehicles was also taken to Norwood Hospital.
A witness told NewsCenter 5 that the woman in the Corvette races cars for a living and had stopped at a Chevrolet dealership looking for a faster car. The lot apparently didn't have one so she went to test drive a Ferrari at a nearby dealership. Something happened at the Ferrari dealership which spurred the woman to peel out and then crash a short distance away.