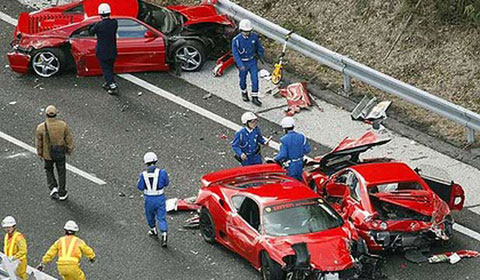 A Sunday drive has ended in a very expensive nightmare, with eight Ferraris, three Mercedes-Benzes and a Lamborghini involved in a fourteen-car pile-up in Japan. The supercar crash happened on the Chugoku Expressway in Yamaguchi Prefecture about 10.15am on Sunday 4th of December 2011. Ten people were hospitalised with minor injuries. Along the highway they were shattered pieces of sports cars.
The cars involved included two Ferrari F430s, a 430 Scuderia, two Ferrari 360 Modenas, two Ferrari F355s, Ferrari Testarossa and a Lamborghini Diablo. There was also a Nissan GT-R, three Mercedes and a Toyota Prius hybrid involved in the crash. The group of drivers was made up of self-employed car enthusiasts, who were travelling from Kyushu to Hiroshima.
The exact cause of the accident that spread out over 400 meters is still unknown but unofficial reports say that the smash occurred when one of the Ferraris hit a median strip and spun. The pursuing cars unable to evade the spinning Ferrari were then caught in a mega crash with bits and pieces flying everywhere. Its probably no surprise that the whole group was said to be speeding with 100+ mph cruise speeds.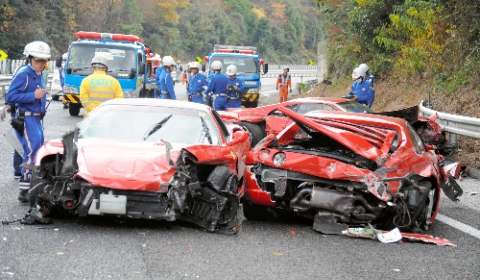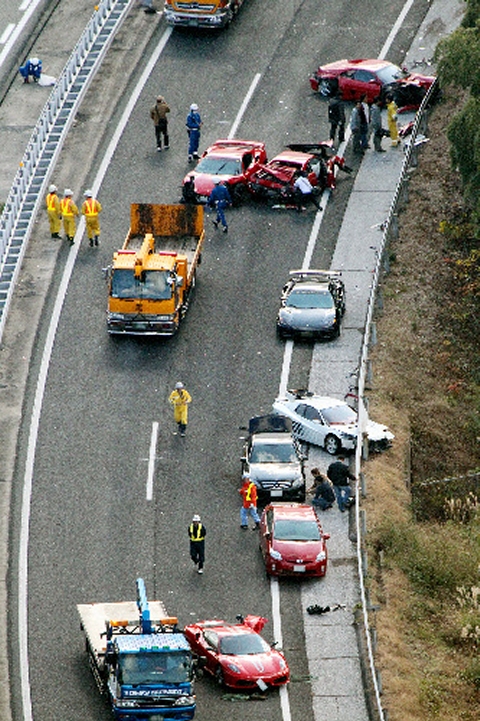 Video of the aftermath
[Thanks to all readers for the tips!]