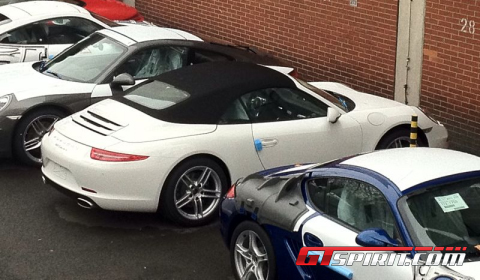 Our reporter from Stuttgart come across a wide variety of Porsche 911 sports cars near the factory. He even spotted a superb lineup of brand new Porsche 991 models awaiting shipment to their new owners. One of the sport cars was a white Porsche 911 (991) Carrera Convertibe with a black top, which will go on sale in the Spring of 2012.
The new 911 Carrera cabriolet can accelerate from 0-60 in as little as 4.4 seconds and achieve a top-track-speed of 177mph, while the 911 Carrera S cabriolet can reach 60mph in as little as 4.1 seconds and has a top-track-speed of 187mph.
Like the coupe, the 2012 911 Carrera convertible features an aluminum-steel construction with the addition of an all-new convertible top design, which preserves the typically sleek 911 coupe roof line. The design includes the use of aluminum, magnesium and high strength steel, which ensures lower vehicle mass and lower fuel consumption while offering improved driving dynamics and additional comfort. As with the 911 coupe models, the new Porsche open-top models are significantly lighter than their predecessors.
More for information the new Convertible check out our official post about the sports car.