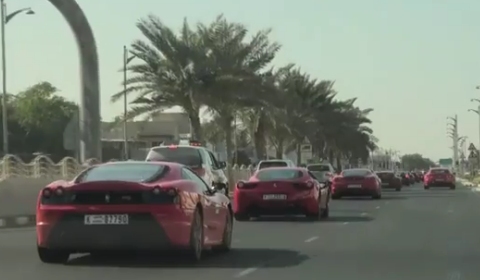 YouTube member 4WheelsofLux recorded the 40th UAE National Day Parade, organized by the Ferrari Owners Club UAE. The Parade had over sixty Ferraris, including 599 GTOs, FFs, 458 Italias, Ferrari 430 Scuderias, F430s, California's and many others. The event started off at the Jumeirah Beach Road with a police convoy and went on all the way to the JBR Walk where it then ended.
The 2nd of December 2011 marks the 40th anniversary of the establishment of unity between the seven founding fathers of the United Arab Emirates. The UAE's 40th National Day celebrations are being planned as a 40-day programme. A diversity of projects and events are in preparation at a federal, emirate and local level. The key objective is to collectively celebrate this important milestone for the nation and all the people that call the UAE home.
For more information and posts about the UAE's 40th National Day celebrations click here.