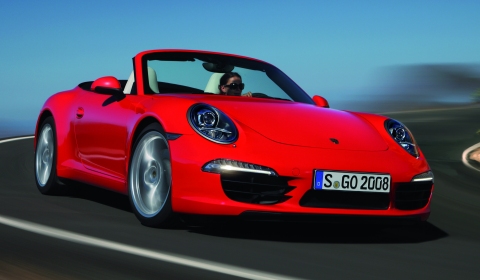 Porsche is introducing two new cabriolet versions of the recently unveiled seventh-generation 911 Carrera. These new models, the 911 Carrera Convertible and 911 Carrera S Convertible, will go on sale in the spring of 2012.
Like the coupe, the 2012 911 Carrera convertible features an aluminum-steel construction with the addition of an all-new convertible top design, which preserves the typically sleek 911 coupe roof line. The design includes the use of aluminum, magnesium and high strength steel, which ensures lower vehicle mass and lower fuel consumption while offering improved driving dynamics and additional comfort. As with the 911 coupe models, the new Porsche open-top models are significantly lighter than their predecessors.
The new 911 Carrera cabriolet can accelerate from 0-60 in as little as 4.4 seconds and achieve a top-track-speed of 177 mph, while the 911 Carrera S cabriolet can reach 60 mph in as little as 4.1 seconds and has a top-track-speed of 187 mph.
Each of the two new cabriolets uses the same engine as their coupe equivalents. The rear of the 911 Carrera houses a 3.4 liter boxer six-cylinder engine with direct fuel injection (DFI) generating 350 horsepower, driving the rear wheels through a standard seven-speed manual transmission or an optional PDK dual-clutch automated manual transmission.
The open-top Carrera S comes with a 3.8 liter boxer six-cylinder DFI engine developing 400hp. The open-top 911s are significantly more efficient than their predecessors; both models consume less than 10L/100km on the New European Driving Cycle (NEDC).
With the longer wheelbase, wider front track and host of new features just introduced on the 911 Carrera and Carrera S models, the new cabriolet variants offer sportier driving characteristics, greater precision and agility and increased efficiency.
On sale in the spring of 2012, the 911 Carrera Cabriolet MSRP is $ 97,300, while the 911 Carrera S Cabriolet MSRP begins at $ 108,000. Thee prices for the 911 Carrera Cabriolet start in Germany with 100,532 Euros, the 911 Carrera S Cabriolet starts with 114,931 Euros including value-added tax in both cases.
Both cars will make their official debut at the Detroit Motor Show 2012 in January.