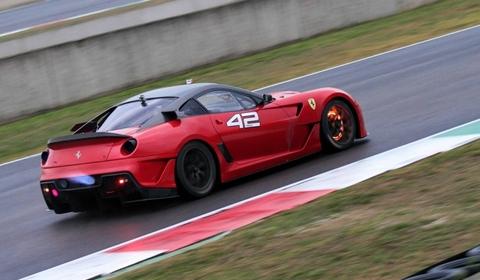 Today's photo of the day shows a Ferrari 599 XX while racing. With glowing brakes and flames comes from the exhaust pipes we can easily say this car is 'hot'.
Just to refresh your mind. The 599XX is a race version of the 599 GTB Fiorano built by Ferrari in Italy. The 599 XX is not street-legal and is only available to a select group of Ferrari owners. Those lucky people can only drive their race cars on Ferrari track days.
Under the hood you will find the same 6.0 liter V12 as in the 599 GTB, but the power has been raised to 700hp. Next to the power upgrade, the 599 XX also has a different gearbox, sourced from Ferrari F1 cars.