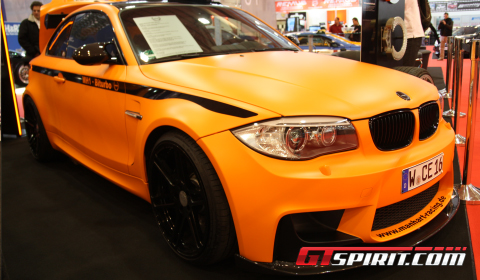 Manhart Racing displays three vehicles at the Essen Motor Show 2011. The Manhart Racing MH1 Biturbo, MH3-V10, and V8RS Biturbo were all placed on a small stand where the German tuner showcased their capabilities.
Just a small recap. The Manhart Racing MH1 Biturbo is the latest project by the tuning company from Geilenkirchen. The car was released in September and offers a complete technical, interior and exterior program. The engine is boosted to 410hp. The in-house sports exhaust system, including down pipes and stainless steel silencers, ensures not only a few extra horsepower, but also an aggressive sound. For more on the MH1 Biturbo click here.
The second car on display is the V8RS Biturbo, the same sports car they showcased at last year's Essen Motor Show. The M3-based tuning project is outfitted with the 4.4 liter twin-turbo V8 engine used in the BMW X6 M and X5 M. The engine was tuned up to a maximum output of 734hp, creating a power-to-weight ratio of 2.0k/hp. A sprint from 0-100km/h takes 3.3 seconds and the top speed is 340km/h. More on this car click here.
The third and final model is the MH3-V10. The V10 engine fitted under the hood of the M3 comes from an E60 M5 and has been tuned to 550bhp. A sprint from zero to 60mph is done in 4.3 seconds and the maximum spseed is 324km/h or 201mph.