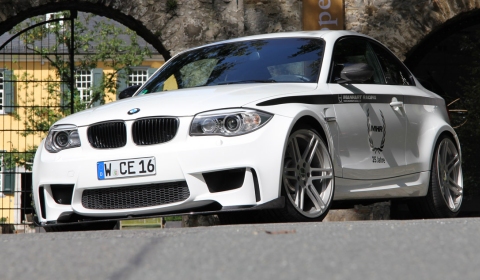 Following their initial release, Manhart Racing have updated us with more information on their MH1 Biturbo with its increase in power to 415hp. The in-house sports exhaust system, including down pipes and stainless steel silencers, ensures not only a few extra horsepower, but also an aggressive sound.
Manhart Racing also built an in-house specially tuned coilover suspension and a magnificent Concave One wheel-set. The exclusive MHR forged wheels measure 9×20 inches at the front and larger 10.5×20 inches at the rear, these have been combined with a 245 and 295 set of Continental Sport Contact 5 tyres. For extra down-force on the front axle, there is a handmade carbon fiber front splitter, including a new central bar. At the rear, Manhart has built a new diffuser, also made of lightweight carbon fiber. A set of quality carbon mirror covers completes the changes to the exterior.
For the interior of the MH1 Coupé, the company from Geilenkirchen offers sports performance seats in the front and an Alcantara rear seat at the back, both enhanced with contrasting red stitching.
The pricing for all the parts has also been released. The MHR full carbon fiber front splitter will set you back € 1,990, the MHR full carbon rear diffuser € 1,820 and the MHR coilover suspension € 2,580. The MHR Concave One forged wheels in 9×20 and 10.5×20 with 245 and 295 tyres are € 7,499 for a complete set. The performance improvement up to 415 hp will cost you € 3,900, the MHR stainless steel silencers are € 1,890 and the down pipes € 799. The MHR complete exhaust system can be purchased for € 3,799, MHR performance seats for € 2,522 and decoration panel for € 399.