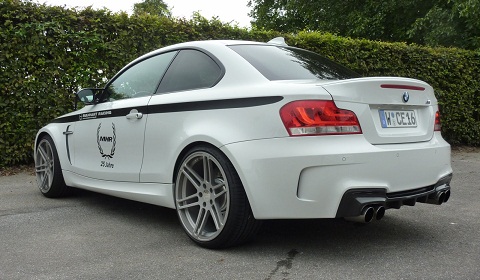 The popular BMW 1-Series M Coupe has attracted the attention of tuning companies recently. The latest to emerge has been created by German tuner Manhart Racing. The German tuner has given the car both visual and power upgrades.
The smallest M-Division car now features a new set of 20 inch wheels with 295 tires at the rear. The six-cylinder twin-turbo engine receives 80 extra horsepower. This has been achieved through extensive modifications to the engine mappings and with a new exhaust system. The total output is now 420hp; enough to take the BMW 1M from 0 to 100km/h in less than 4.5 seconds.
A redesigned diffuser is also on offer and a new front spoiler lip in carbon fiber will be fitted to the car in the future. Black decals have been added to the bodywork and inside, the interior has been redesigned using BMW Performance bucket seats for higher levels of comfort and support.
No price at the moment, but expect it to cost a few thousand Euros.
[Via BMWblog]